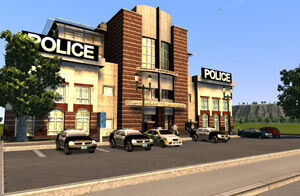 The Security, or Police service is one of the services your citizens require. Its primary function is to suppress crime in the city, which currently is only present as a form of satisfaction (no riots and thefts, sorry).
We also have the Los Angeles Courthouse, which is a Landmark, but also provides a 10% boost to overall security satisfaction.
Again as in Fire and Health, bigger is better. Using more advanced structures will ensure larger and more quality coverage.
The Multipurpose Station and Multipurpose Center also supply Police Security Services.
The buildings available are:
Sheriff's Office
Description
Provides security for the block. Small Security.

Cost
3000 c
Max. Monthly Cost
1000 c
Range
Neighbourhood
Required Workers
Unskilled Medium
Skilled Medium
Police Station
Description
Provides security for the block. Medium Security.

Cost
6000 c
Max. Monthly Cost
2000 c
Range
Neighbourhood
Required Workers
Unskilled Medium
Skilled High
Police Headquaters
Description
Protects security for everyone. Large Security.

Cost
15000 c
Max. Monthly Cost
5000 c
Range
City
Required Workers
Unskilled Medium
Skilled High