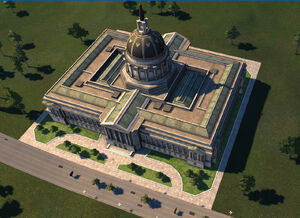 This is a Landmark. It is part of the Americas Content pack and it improves Quality of life.
Costs 30000c - m/c 10000c
Workers Required:
R2 (Skilled): Very High (??)
R3 (Executives): Medium (??)
R4 (Elite): Medium (4)
--for reference, low density =1, medium density = 2, high density =5.
Can be found under the Packs > Americas > Buildings
San Francisco City Hall, re-opened in 1915, in its open space area in the city's Civic Center, is a Beaux-Arts monument to the City Beautiful movement that epitomized the high-minded American Renaissance of the 1880s to 1917. The structure's dome is the fifth largest in the world.[1][2] The present building is actually a replacement for an earlier City Hall that was completely destroyed during the 1906 earthquake.[3]
---