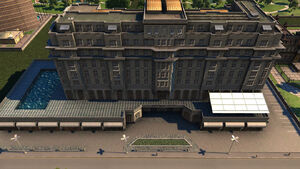 This is a Landmark Holiday Hotel, reproduction of the famous hotel on Copacabana beach, Rio de Janeiro. The building functions as a normal Holiday hotel, but also adds a bonus +1 Holiday token.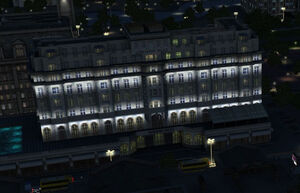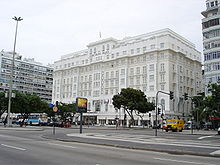 The Copacabana Palace Hotel is the most famous and luxurious hotel in Rio de Janeiro, Brazil.
It's considered South America's premier hotel, having received the rich and famous for the past 80 years.
It faces the Copacabana Beach.
It consists of an 8-storey main building and a 14-story annex.
The hotel was designed by French architect Joseph Gire. It has 216 rooms (148 in the main building and 78 in the annex), a semi-olympic swimming pool, an exclusive swimming pool for VIP guests located at the penthouse, a tennis court, fitness center, a 3-storey spa, two bars, a nightclub and two restaurants. It was inaugurated on August 14, 1923.
It was featured in the 1933 filmFlying Down to Rio. After Brasília became the Brazilian capital in 1960, the hotel underwent a period of slow decline and was surpassed by the more modern hotels which were built in the 1970s.
There were plans to demolish the hotel in 1985, but they were scrapped afterwards. The hotel was refurbished sometime after 1989 when the Orient Express group bought it.
---
References
Community content is available under
CC-BY-SA
unless otherwise noted.