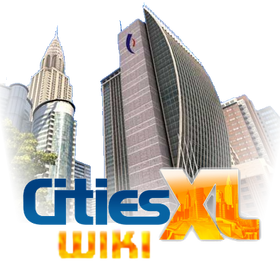 The Cities XL Wiki is a wiki that is based on the new generation city-building video game, Cities XL. The wiki currently contains 300 factual articles and needs your help!
Overview
The wiki was created approximately April 2008 by the user, CitiesXL and is in need of helpful editors. Our goal is to become and be a vast, reliable source of information and knowledge about Cities XL, and you can help! It is undetermined if we will cover information about City Life, an older Monte Cristo city-builder game that is not a prequel to Cities XL.
Helping the Wiki
You can help the wiki in many ways.
If you haven't already, please consider creating an account and becoming a part of the community by clicking here. Creating a user account is free!
If you see an article with an error, please fix it up!
If you see a page with vandalism, please revert it, using the page history tab.
If you see a short page/stub, please consider expanding it with your knowledge of that article! A list of stubs can be found here.
Help spread the word about the wiki to any other Cities XL fans out there.
Place our forum banner in your signature on the official forums or any other fansite, and link to our main page.
Check out our Community Portal for anything else that may need fixing!